Get more efficiency and growth from your marketing budget with our marketing strategies. Find out what it is and how it can help your marketing ROI
Developing a Deep Understanding of Your Customers 
Customer Insights
Our dedicated group of experts and professionals will help you develop a deep understanding of your customers and translate those insights into actionable strategies. Our approach combines innovative and pragmatic quantitative and qualitative techniques with big data analytics to provide two core capabilities:
Discover why your customers behave as they do and uncover sources of growth with our innovative qualitative and quantitative research tools. By understanding your customers' experiences and drivers of loyalty, you can develop effective marketing strategies that include value propositions, segmentation, branding, product design, pricing, and customer experiences.
Advanced Analytics 
Accelerate the potential of big data with our Analytics Knowledge Hub (AKH), which translates insights from advanced analytics into action across your marketing and consumer-facing organization. With a global team of analytics professionals, we have a track record of creating insights-driven organizations across a range of industries.
Our Goal 
Is to help you maximize the profitable use of data by discovering insights, designing programs based on those insights, and delivering insights-driven growth for the short- and long-term. We provide simple tools and training for your front-line employees to extract meaningful insights from complex data sets, along with IT and data-support infrastructure from our state-of-the-art, data-center in Paris, France.
Our management consultancy services include customer-lifecycle management, marketing ROI, pricing, and digital media buy optimization. With our suite of proprietary methods, research, analytic software solutions, and economic simulators, we help you optimize your marketing spend and bottom-line savings, and where to maximize profit.
Incrementality Measurement Is The Future

Even If You See It, It Doesn't Mean Its Working

Incrementality measurement is a way of assessing the effectiveness of advertising or marketing campaigns by evaluating the extent to which they generate additional business that would not have occurred without the campaign.

There are several different methods of incrementality measurement, including A/B testing, randomized controlled trials, and econometric modeling. Each of these methods has its own strengths and weaknesses, and the choice of method will depend on factors such as the size of the campaign, the desired level of precision, and especially the availability of DATA.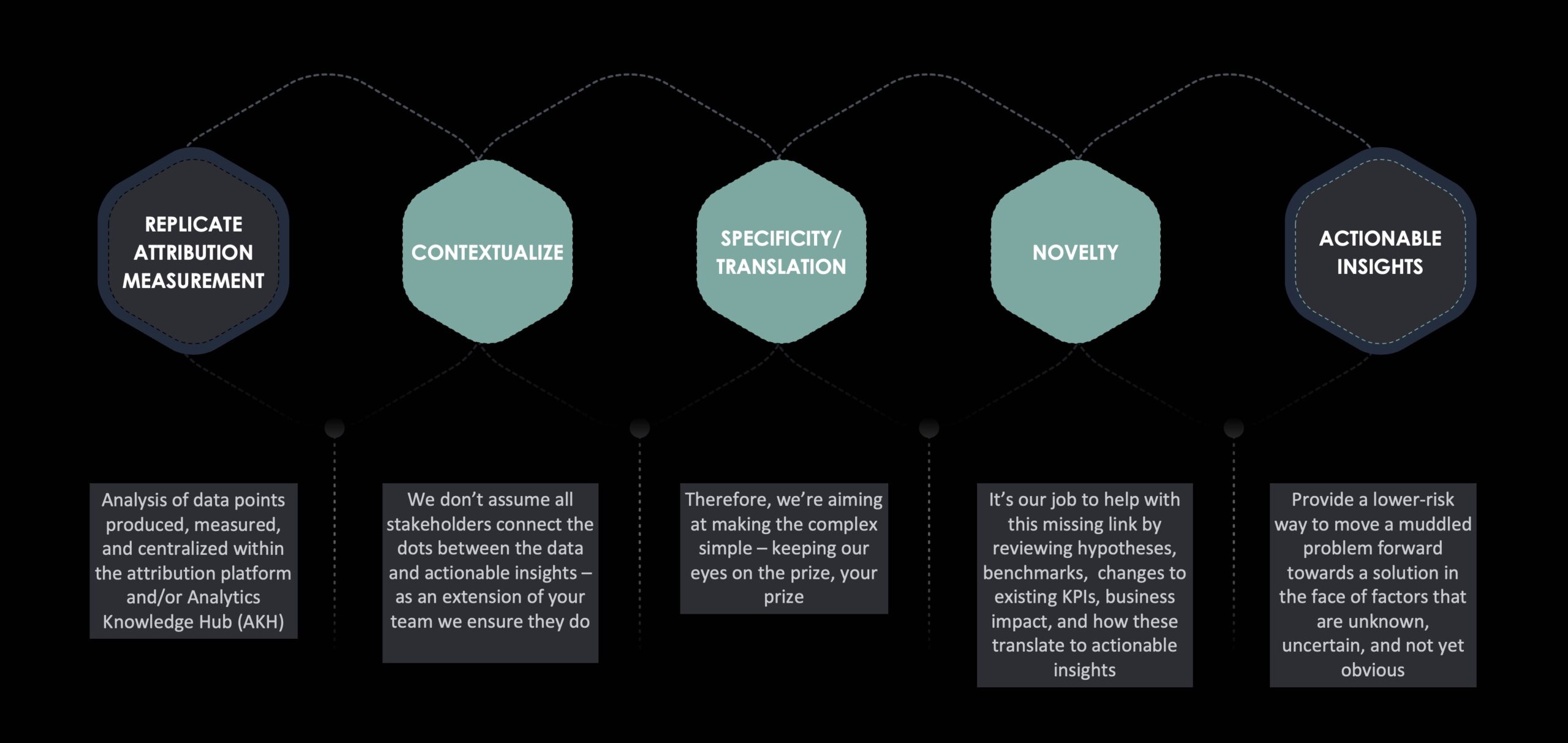 OUR BUSINESS CONTINUUM CYCLE ENSURES IMMEDIATE VALUE ADDITION
Are you looking to receive more insights into how our solutions can work for you?
Click below to schedule a time convenient for you. Once you do, we will meet virtually through Teams and are looking forward to this.
"Until you focus on the entire buying group experience, you are locked into the machine of lead generation instead of creating emotional connections."
Source: Forrester – Planning Assumptions B2B Marketing 2022